What do The Dorchester Hotel and the new film Mary Poppins Returns have in common? The Hyde Park icon has been transformed into a cinematic moment straight from the movie. If you remember the original film, there's a dramatic moment when the horses leap off the carousel. This was the inspiration for the magnificent floral displays that delight guests this holiday season. Designer florist Phil Hammond said, "We had the romantic notion that once free, the horses would have trotted smartly over to the Dorchester." The hotel has long embraced British festive decorations and the time of childlike wonder and merriment. And since the hotel opened in the 1930s and Mary Poppins Returns is also set in the 1930s, this year's theme just fit.
The festive scene looks like it sprang to life overnight by the hands of a few clever elves, but the planning that goes into a grand endeavor of this nature takes months. In fact, the hotel staff no sooner has the holiday decorations boxed and put up after the New Year, and it's time to start planning next year. The Christmas trees require the most advance notice. This year, a towering 14-foot main tree in the Promenade had to be hoisted up by six tree surgeons. And the hotel had to order the trees weeks in advance, to guarantee they got the best. As for looking like it came together overnight, a team of 20 worked to install everything in under seven hours. Guests went to bed on a November night and woke up to Christmas the next morning.
Sarah Barber, the award-winning executive pastry chef for The Dorchester, reworks childhood classics into modern creations to create a perfect afternoon tea, for which The Dorchester is well known. The beautiful cakes have visual Christmas cues such as Santa's hat pastry made with gingerbread panna cotta and mulled wine jelly.
But why this time of year is so special at The Dorchester has more to do with the guests who return year after year. Children grow up and return with their children to carry on the tradition.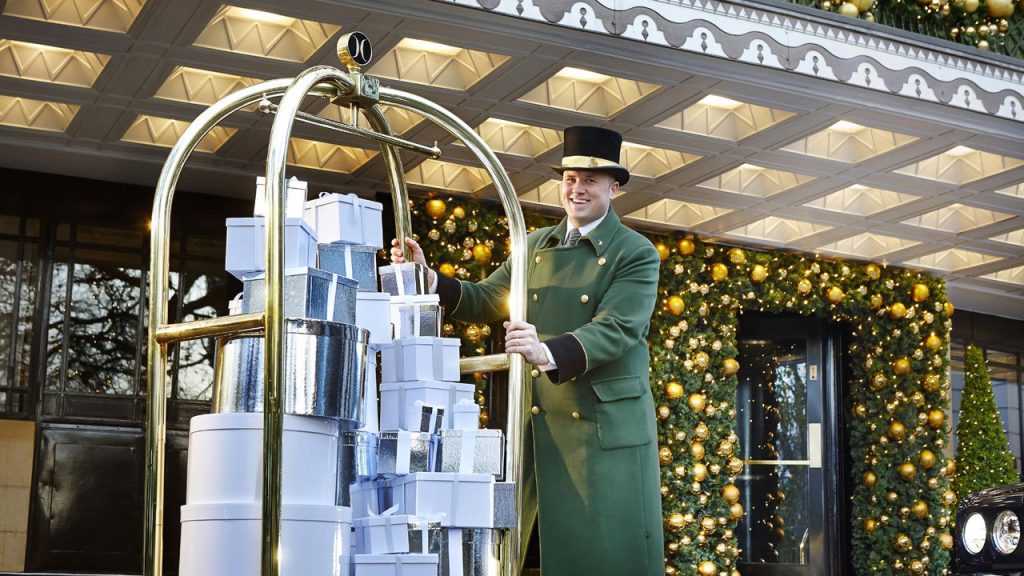 The hotel famously proclaims that Christmas at The Dorchester is about friends and families coming together to celebrate, and that will never change. This year's themed decorations are merely the icing on a fruitcake, which pairs well with their legendary hot-buttered rum drink.