Miami's Faena Forum
Argentinian developer Alan Faena's 43,000-square-foot Faena Forum is located in the heart of the six-block Faena District, Miami Beach and is home to Faena Art. Miami's new cultural cornerstone was designed by Pritzker Prize-winning Remment Lucas "Rem" Koolhaas, the famed Dutch architect, founder of the Office for Metropolitan Architecture (OMA), and led by architect Shohei Shigematsu.
Rem and OMA created the new center for the arts, designed to "…catalyze experimentation within and across artistic disciplines and foster cross-cultural collaborations among artists throughout the Western Hemisphere," according to OMA.
The 50,000-square-foot center was inspired by the Pantheon in Rome. The 40-foot dome features a spiraling walkway connecting the ground floor to its central glazed oculus, and is connected to a cube that takes its inspiration from the Buenos Aires' Teatro Colón, the historical opera house. The series of flexible spaces formed by interlocking cylindrical and cuboidal volumes provide for a range of space for projects, commissions, performances and events.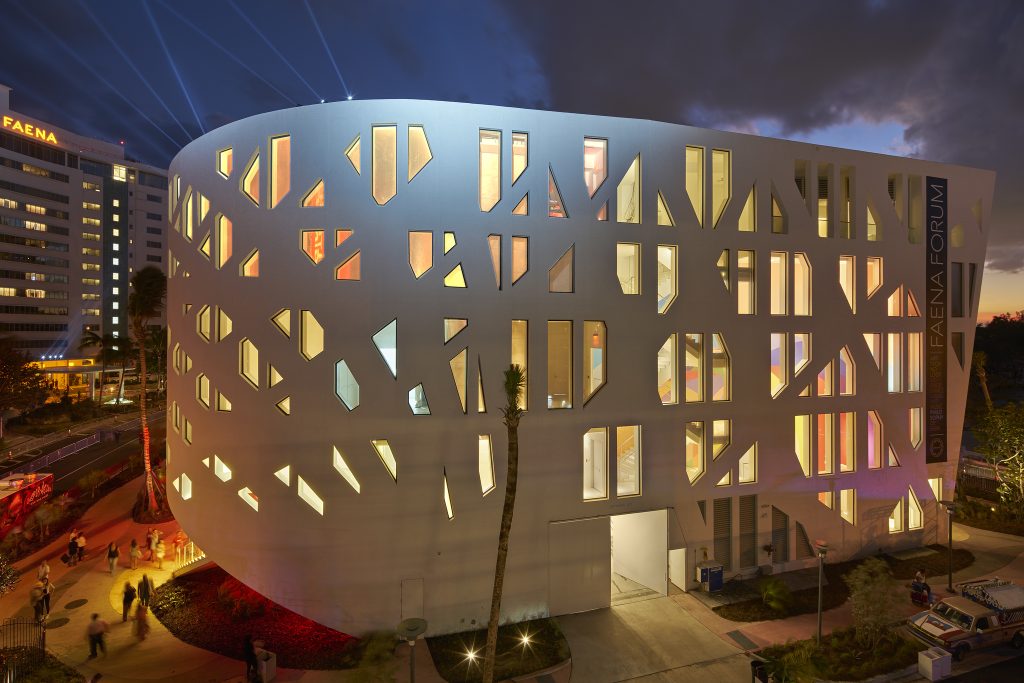 Ximena Caminos, artistic director of the Faena Forum, has an agenda that aims at breaking taboos, and providing interactive cross-genre activities including such novelties as roller skating and art, and providing an incubator and exhibition space for "cultural turbulence."
"The Faena Forum revives a Miami idea of architecture as playful sculptural expression, as much about appearance as usefulness." – The Financial Times