Tasty Taproom and Kebaberie
Hong Kong's culinary scene has a new reason to celebrate with the opening of Salt & Barrel, a concept restaurant between BlackSalt's Taran Chadha, chef patron, and local breweries Black Kite and Kowloon Bay, and liquor retailer the Tramline Co. The new eatery is tucked behind the busiest street of South Lane and lures in foodies with an enticing aroma of spices and grilled meats. The idea behind the restaurant is the misunderstood Kebab.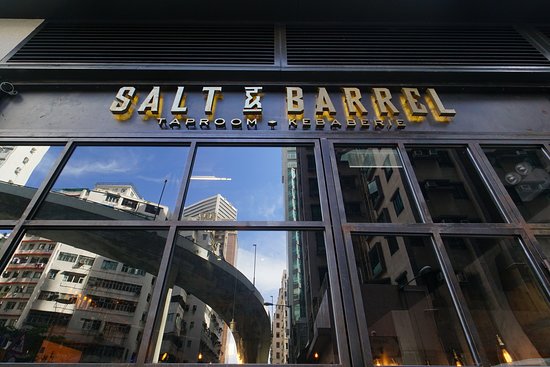 "I always thought Kebabs were not appreciated enough," chef Taran Chadha said. He believes kebabs should be marinated in a healthy way, using high-quality meats, seafood and seasonal vegetables and with traditional and modern equipment to grill them.
Kebabs are said to have originated in Turkey when soldiers would grill chunks of freshly hunted animals skewed on swords over open fires. With Salt & Barrel, Chadha blends the taproom and Kebaberie under one roof. When you enter the restaurant you encounter a vibrant palette of warm colors in a relaxed atmosphere with artwork reflective of the Mughal Empire. It's one long, airy room with a bar at the front of the restaurant, offering a range of craft spirits and draft beer options paired with food. Beer is popular and many guests order draft on tap. There are a couple of reliable choices in the red, white and sparkling wine category. Or you could opt for the lassi, a non-alcoholic mango drink to sooth the palate from the spices.
The main menu has a list of small plates. Then, there's a small selection of main dishes, each featuring a type of meat, spice profile and suggested beverage pairing. The tasty piquillo pepper samosas have a three-cheese filling and tamarind chutney—a mild version of jalapeño poppers. Tandoori trout filet—also on the small plates—is a pink trout cooked rare and served with marinated roe, creamy yogurt and buckwheat puri. The murgh musallam chicken dish is marinated, stuffed with eggs and cooked to perfection. Salt & Barrel has a rotating selection of sweet treats for dessert and they vary daily.
After the runaway success of BlackSalt, Chadha's debut restaurant that celebrated his Indian heritage, Salt & Barrel is an exciting new chapter in the celebration of the kebab.