BOOTS / Balenciaga
Amp up your camping style with these punk inspired leather boots. Crafted in Italy in smooth black leather, they feature exaggerated cut-outs to the sides, alongside gold-tone buckle details. Wear with a midi skirt and jacket for an exceptionally edgy look.
GLOVES / Chester Jefferies
Stay warm and look trendy for any outdoor adventure with these beautiful gloves by Chester Jefferies. Not only are these gloves comfortable, but there is an abundance of different colour combinations to choose from.
BRACELET / Versace
Keep your sense of glamour while you're camping with this perfectly woven calf leather bracelet. Plus, you'll feel great knowing it's made from hypoallergenic materials and metals that do not contain nickel or lead.
HAT / Valentino
Say goodbye to the traditional camping cap and add a classic dimension to your outfit with this nude angora hat from Valentino. This beautiful piece features an upturned brim and the signature Rockstud embellishments.
BANDANA / Dolce & Gabbana
The black and blue silk 'Western' print bandana from Dolce & Gabbana is the perfect accessory to bring woodsy-chic look to life.
LIP BALM / Hourglass
Luxurious, yet packed with essential oils, vitamins, and moisturizers – this lip balm treats the lips, rather than just protecting them from the elements. Wear it during the day and you'll get a dose of pretty, non-sticky shine; apply it on overnight and you'll notice a softer mouth by morning.
BAG / Eddie Harrop
The appropriately named 'Voyager Weekend Bag', is generously-sized, fashionable and functional. This leather bag features metal feet for protection, a large interior pocket and a helpful detachable shoulder strap, which helps keep you hands free while you're on the go.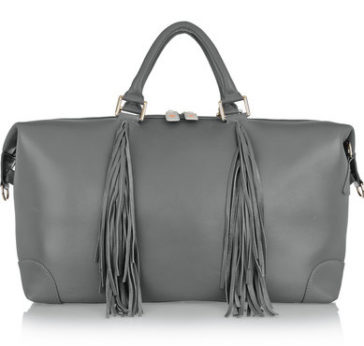 FRAGRANCE / Tom Ford
With notes of sandalwood, bitter orange, lemon, jasmine and ylang-ylang, this fragrance whisks you away to the outdoors. This lasting scent is a top pick in the Tom Ford collection and an essential to take on the road.
SUNGLASSES / Dior
Glamp it up with these modern and chic, Italian-crafted sunglasses. The distinctive geometric brow bar and tonal studs at the top of the mirrored lenses add a look that's both polished and edgy.
BOOK / Chanel Slipcase
Curl up with this unique collection of Chanel's most emblematic memoirs – Chanel Fashion, Chanel Jewelry and Chanel Perfume. Take some time and delve into this chic history lesson while away in the woods.
PHONE CASE / Louis Vuitton
Make sure your iPhone is safe from whatever the activity, with the Eye-Trunk for iPhone 7 Plus in precious Golden Crocodile leather. More than a protective cover, this new Nicolas Ghesquière statement establishes itself as the ultimate fashionable accessory of the season.
CAP / Alexander McQueen
Elevate your outdoor style with this black cotton bunny baseball cap from Alexander McQueen. The straight peak baseball cap is fitted with an adjustable snap strap and is detailed with the brand's signature abstract bunny logo at the crown.