Winter-Ready Brushed Sheepskin Coats by Louis Vuitton
The most standout coat of the collection paired with vanity trunk handbags in aluminium, copper and carbon. The season's coat.
The Patterned Boot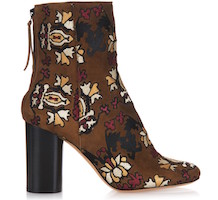 Isabel Marant's take in rich hues and patterns that marched down fall runways will be welcome flashes of color in winter.
Nirav Modi's – The New Delhi-Based Jeweler

The Maharani necklace, boasting five graduating rows of diamonds—238 carats in all—each cut in the ancient Taveez style typical to the crown jewels of India
Puiforcat Art Deco Chess Set

Designed by Jean Puiforcat in 1927, made by masterful artisans – each set takes 200 hours of meticulous construction of sterling silver, ivory and Makassar ebony into a tabletop collection of veritable strategy-bound sculptures
Berluti Shoes

After 6 months of work, bespoke shoes are ready to be delivered to the client. Each pair comes in a Venezia Scritto leather box customized to match the patina colors and engraved with the owner's name.
From Mr. Porter´s a business uniform in dark blue or a mid-grey wool.

Freshen up a bit with shoes and accessories a classic white or pale blue poplin shirt teamed with a smartly polished brown leather lace up shoe. A fresh colored plain or neatly patterned tie and a pocket square, neatly folded or with a flourish, to complete the look.
Apple/Hermès Watch
In a move that further brings together the worlds of luxury fashion and technology, Apple announced today that it has collaborated with Hermès to create a collection of new Apple Watches.
Burberry´s New Scarf Bar
Allows buyers to create their own scarf from over thirty colors. The selection includes solid color styles, the iconic check range of shades and runway-inspired prints from the Burberry studio I London.
The Great Candle
Trudon candles can be collected in all sizes from the "mini" ones to the "Great Candles". Cire Trudon's large perfumed candle adorned with the Trudon blazon can be ordered in five scents. This luxurious candle burns for a few hundred hours.
Gucci's Princetown Slipper

Fully lined and trimmed with kangaroo then finished with Gucci's signature horsebit detail.
Parfumé de la Carte:
Scented Leather Cardholder Collection by Maison Francis Kurkdjian Paris
With leather finishes available in calf and crocodile, in an array of desirable colors, carrying cards has never been so decadent or smelled so glamorous.
"Miss Viv" – Iconic Handbags

In collaboration with fashion icon Ines de La Fressange, Roger Vivier launched a new collection of bags inspired by her travels around the globe.