After winning the world's first fully-electric FIA Formula E race, the 2014 Beijing ePrix, Lucas di Grassi has appeared on the podium more times than any other driver.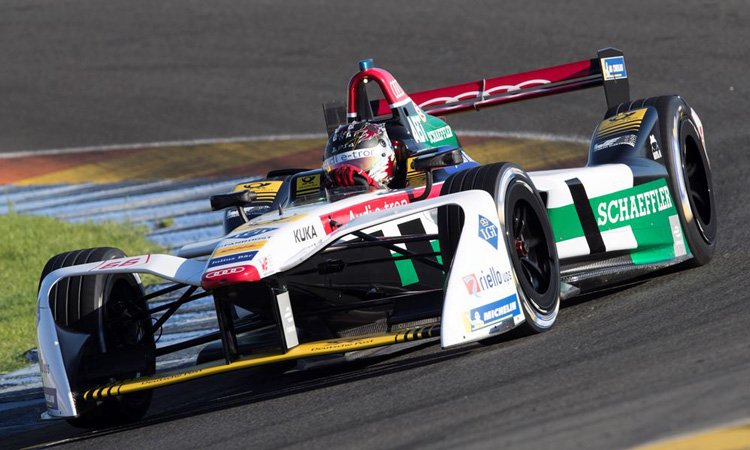 With twenty appearances on the ePrix podium, this Brazilian driver from São Paulo has exploded into the Formula E racing scene.
He finished third in the first season, and took the Season Two title down to the wire, but ultimately just lost out. In Season Three he turned it around again to overcome a 10-point deficit to achieve his Championship victory in Montreal.
Having contended with archrival and former champion Sebastien Buemi since the inaugural Formula E race in Beijing 2014, an ecstatic di Grassi claimed the Championship title on the final day of the double-header.
"You have no idea," di Grassi said. "We had so many sacrifices but everything counts. I'm so happy!"
The technical relationship with Schaeffler has been a driving force for Lucas di Grassi, which transported him to within mere points in the Season Two final and finally the Championship title in Season Three.
Besides di Grassi's Championship win, his most memorable race is undoubtedly the 2017 Mexico City ePrix, where he came back to claim an improbable win in one of the most thrilling races in the all-electric series' short history.
"The race at Mexico showed what Formula E is all about, on track and around the racing itself," di Grassi told CNN's Supercharged show.
He has driven for the Audi Sport ABT Schaeffler team, which has been a regular front-runner in Formula E since winning the inaugural race back in Beijing 2014. Di Grassi was the first driver to commit to the series and played a key role in the development of the original spec car that was used in season one. Di Grassi and teammate Daniel Abt have been on board since the first season, with both drivers taking multiple podium finishes.
Di Grassi also took part in a spectacular street demo in Las Vegas. He also became the first man in history to drive a racing car on the Arctic Ice Cap, when he took a starring part in the incredible Project Ice adventure.
As well as racing in Formula E, di Grassi previously spent a season racing in F1 for Virgin, and was also a test driver for the Renault Formula One team.
Courtesy of FIA Formula E.