Combining the sensuality of the Mediterranean with the unique architecture and hospitality of Mexico, Careyes is a superbly exclusive private beach resort.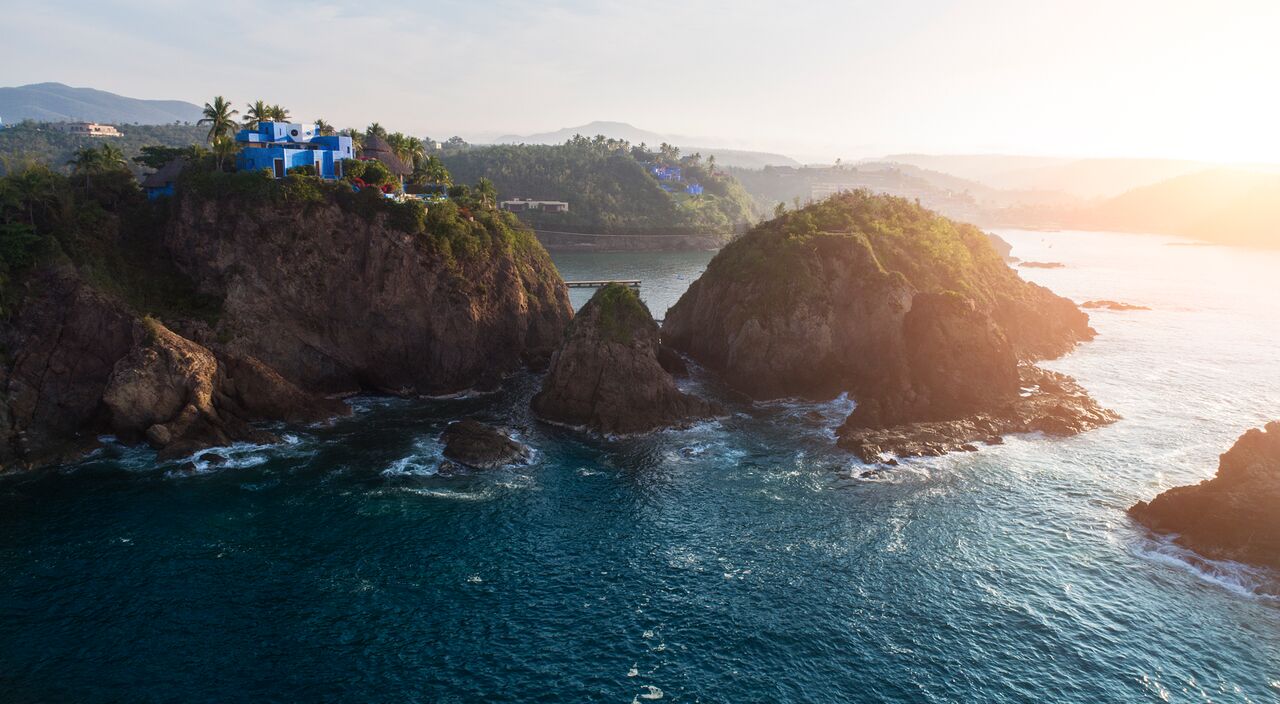 Located on the Costalegre or "happy coast," this family-owned resort is impeccably situated on the Mexican Pacific beaches of the south coast of Jalisco, Mexico.
Combining a sustainable mix of rugged luxury, artistic design, and unexpected adventures, Careyes' specific combination of natural beauty, architecture and sybaritic lifestyle make it one of the world's most coveted destinations among the cognoscenti.
Gorgeous villas with large infinity pools offer dramatic ocean views, complete with grand palm-thatched palapas, and indoor-outdoor spaces that naturally merge with the land.
Careyes, spanning over 20,000 acres including the reserve, features a creative international community with vibrantly colored accommodations designed by the world's most imaginative architects, as well as spacious casitas, the new El Careyes Club & Residences, five al fresco restaurants, and Careyes Polo Club, with two regulation-sized Bermuda grass fields.
Exclusive events are held throughout the year at Careyes, including the Arte Careyes Film Festival, Ondalinda music festival celebrating Mexican heritage, a number of polo events, Chinese New Year celebration, and more.
Ranging from hikes through the jungle mountain terrain and long walks on unspoiled beaches, to endless swimming, boating excursions, yoga classes, whale-watching in season, scuba diving, surfing, tennis, kayaking, horseback riding, and polo at the Careyes Polo Club–there are plenty of outdoor activities in Careyes.
 
Meals are served at five restaurants featuring international and Mexican cuisine, honoring local flavors and incorporating regionally-sourced ingredients.
Sitting at the center of the Chamela Cuixmala Biosphere Reserve, Careyes has contributed a large expanse of wetlands for preservation in 1994. This protected area hosts 70 species of mammals, 270 species of birds, and over 1200 species of flora and fauna. Being "green" and sustainable is a way of life that has been incorporated since the very beginning 40 years ago.
The villas are built to maximize cross ventilation to lessen the use of air conditioning. Outdoor lighting is limited at night to conserve energy and avoid the light pollution that detracts from the stars. All development in the private resort estate is ecologically sensitive, making it a leading example of sustainable growth, responsible consumption, and natural preservation for its neighbors.
 
This dedication to preservation extends to all aspects of Costa Careyes and spurred the creation of the Careyes Foundation. The Careyes Foundation was created years ago to support environmental programs and the local community. Fascinating, elegant, educated and multilingual, the Careyes community is equally as important, beautiful and colorful as the place itself.  
Sea turtle preservation, educational programming, agricultural initiatives, and an Artist in Residency program are among the many ways the Careyes Foundation protects the unique way of life in this region. The turtle conservation program has helped more than 1.4 million turtles to date.
The natural seclusion, perennially perfect climate and myriad of outdoor activities and inspired magic of Careyes has attracted the world's jetsetting bon vivants since its earliest days. Today, Careyes remains one of the world's most coveted destinations, with an unparalleled list of VIP visitors and residents of more than 42 nationalities who come to celebrate the amazing setting and quality of life all year-long.