The Charming Pierce Brosnan
The Legendary Irish-American Actor, Film Producer, Artist, Philanthropist and Two-Time Golden Globe Award Nominee
Brosnan saw his first Bond movie Goldfinger while living in England. It changed his world, igniting a fire for acting hitherto undiscovered. However, it is his humble Irish background, from his single-mother-headed family to his modest British upbringing, which have informed the gentleman behind the actor.
Though he began studying commercial art, Brosnan soon switched to acting, studying with the seriousness he would approach it his entire life; as a professional craft. He started off at Kensington's Oval House Theatre Club and then graduated from the Drama Centre in London in 1976. He went to work as assistant stage manager at York's Theatre Royal, where he made his professional stage debut in a play called Wait until Dark. He got his first major part in the British premiere of Tennessee Williams' Red Devil Battery Sign at the Roundhouse Theatre,which received great critical acclaim, as well as personal kudos from Williams.
Still, the big screen beckoned and he decided to go to the land of movie magic: Los Angeles. Luck, acting skills, suave looks and debonair charm landed him the Bond-like lead character role in Remington Steele, where he played a criminal turned private investigator co-starring with Stephanie Zimbalist, as part of the television series' investigative dynamic duo. This series was well loved and lasted from 1982 through 1987, solidifying Brosnan's place in Hollywood.
By 1987, he had taken to the American big screen with The 4th Protocol. He did not get to play Bond until 1995 when he became 007 in GoldenEye, followed by Tomorrow Never Dies, The World Is Not Enough and Die Another Day. At this time, he also co-starred with Barbra Streisand in The Mirror Has Two Faces, and did a comedic stint in Mars Attacks!
From Steele to Bond, Brosnan had made it. Since then his dedication to his craft has never wavered. He has not forgotten that when he was starting out he could barely make ends meet. His strong work ethic has led him to create a marvelous body of work in action, comedy and drama that is seemingly endless.
Among Pierce Brosnan's many film credits are: The Lawnmower Man, Long Good Friday, Mrs. Doubtfire, Seraphim Falls, The Thomas Crown Affair, Mamma Mia!, Love Is All You Need and The November Man. He has recently completed production on The Foreigner, a Martin Campbell film, co-starring Jackie Chan. He is currently filming The Only Living Boy in New York with Jeff Bridges and will next star in Across the River and into the Trees, based on Ernest Hemingway's classic novel.
His secret to conquering Los Angeles?
"Being an actor in Hollywood involves lots of things beyond acting. Charm really helps. And it's a good idea to incorporate a little Bond into all your dealings."
Brosnan started his own production company, Irish Dreamtime with Beau St.Clair in 1996. It has produced many films to date including The Nephew, The Thomas Crown Affair, The Match, Evelyn, Laws of Attraction, The Matador, The November Man released in 2014, and I.T. released in 2016.
Brosnan has received numerous awards and nominations in the television and film industry over the years.He has recently been recognized for his extensive contribution to the film world with the 2016 European Film Academy Achievement and World Cinema award.
The Pierce Brosnan not always emphasized is the devoted family man. He was dedicated to his first wife, the Australian actress Cassandra Harris, with whom he has three children and he was devastated when she passed away from cancer at the age of 43. He credits his early success to her.
"Cassie has made me the man I am, the actor I am, the father I am. She's forever embedded in every fiber of my being."
He is equally devoted to his current wife, the American journalist Keely Shaye Smith with whom he has two sons, Dylan and Paris.
He has also returned to his expression as a visual artist, devoting time to painting at either his Malibu or Kauai homes and producing colorful Giclée prints which he gives to family and friends and also sells to support his charitable activities.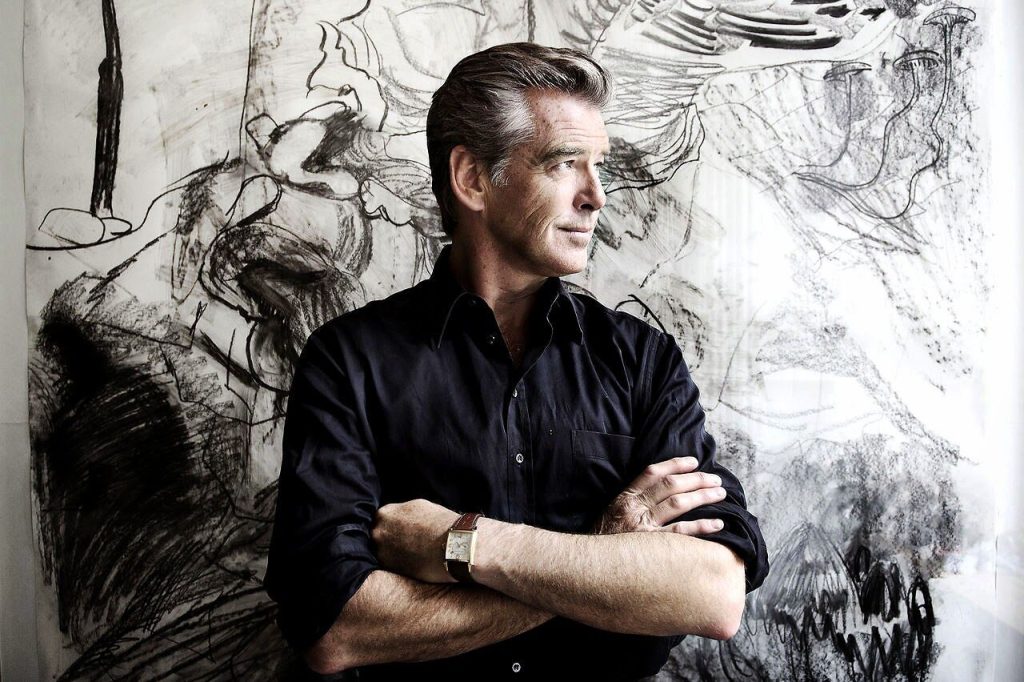 An active human rights supporter, he has spoken out for the acceptance of same-sex marriage and is enthusiastically involved in many other socio-political issues. He is concerned about the planet, acting as spokesperson against "the destruction of our environment by our own carelessness". With hope he encourages people to take charge,
"We are all forces of nature—the catalysts and agents of change, the architects and engineers of a new tomorrow. We shape and create our reality every moment of every day, and like no species before we have the power to define our future."
The Irish-American and honorary OBE citizen Pierce Brosnan is recognized worldwide for his actor's charm and good looks but also his good works. He has long incorporated into his craft, the private, caring individual he is. He values the simple things in life like friendship, art and family, especially after the recent loss of his Irish Dreamtime production company partner and good friend, Beau St. Clair, to cancer.
What's important to Pierce Brosnan? He states modestly,
"Being with my wife and children in Kauai, seeing old friends there, being on the beach, painting, and paddle-boarding. Sitting under a Kauai moon with a bonfire going, buddies around. Those are the things that kind of make my world turn."