Ocean Blue World Celebrates the Unveiling of The Residences at Solaz, a Luxury Collection Resort at Seminario 12 in Mexico City

The Luxury Collection Hotels & Resorts will open its first Los Cabos property Fall 2018
It is the newest hotel to debut in the Luxury Collection's expansion in Mexico, which now includes seven resorts in Baja California Sur, Campeche, Mexico City and Yucatan. The complex is designed by the Architectural Firm Sordo Madaleno, with artistic pieces designed exclusively for Solaz by César López Negrete. Ocean Blue World celebrated the unveiling of The Residences at Solaz, a Luxury Collection Resort, exclusively represented by Engel & Völkers Snell Real Estate with a private party in Mexico City at Seminario 12 the mecca of art, culture, music and dance.
Solaz, Los Cabos
"The debut of Solaz Resort marks The Luxury Collection's seventh hotel in Mexico, an important milestone for the brand as we showcase our commitment to expanding our footprint in this remarkable destination," said Mitzi Gaskins, global brand leader, The Luxury Collection. "Solaz Resort will offer global explorers a new gateway to the Baja California Peninsula and deliver unparalleled travel experiences signature to The Luxury Collection."
Solaz, operated by Quinta del Golfo de Cortez, is located on 34 acres overlooking the Sea of Cortez and will offer 128 guestrooms as well as 21 luxury residences.
Architectural design firm Sordo Madaleno was tasked with creating the look and feel of the resort, blending desert vegetation with quarry stone, granite, marble and wood to create a unique appearance.
Each room has a private entrance and patio, original artwork created by Mexican artist Cesar Negrete, custom furnishings and unobstructed views of the sea.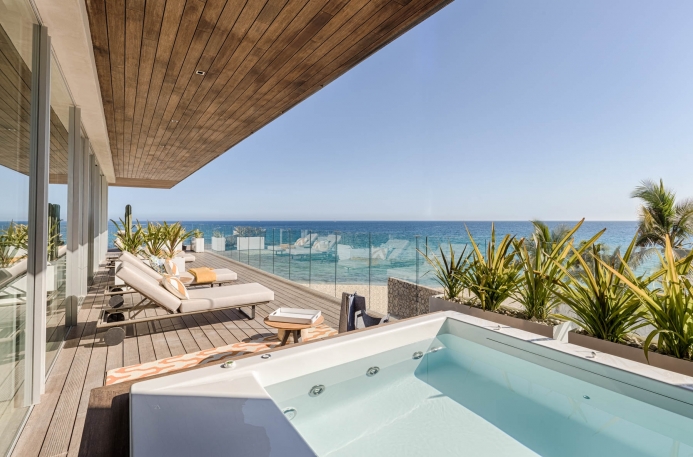 "Our hotel is the latest luxury beachfront hotel to hit the Cabo market, offering luxury global travelers and locals alike an architectural masterpiece overlooking the beautiful Sea of Cortez," said Giuliana Torres Schernthaner, general manager of Solaz, a Luxury Collection Resort, Los Cabos.
"We are thrilled to debut Solaz Resort as part of The Luxury Collection, officially joining the brand's portfolio of world-renowned hotels and resorts," added Schernthaner. "As the brand's seventh hotel in Mexico and first in Los Cabos, we are proud to be a key player in The Luxury Collection's fast-growing portfolio."
Solaz, Luxury Collection Resort & Residences, Los Cabos is not only unveiled with an environment full of design and luxury, but also will be pleased to bring a culinary offer that will revolve around the most outstanding flavors of Baja California with 6 restaurants and unique culinary proposals, led by renowned Chefs such as Pedro Arceyut, Edo Kobayashi and Emanuele Olivero.
To complement this gastronomic offer, the renowned Limantour Licorería, with its taste for history, myth, style and the testimony of the cocktail, will be in charge of all the shaker offer of the restaurants and bars of the resort.
The resort will feature a spa and wellness center with 10 treatment rooms, two VIP double rooms, Thalassotherapy, a full-service salon, and a state-of-the-art fitness center.
There is also 20,000 square feet of meeting, wedding and event space for up to 1,000 guests, including a 3,500-square-foot ballroom and an 11,000-square-foot outdoor deck. A team of planners is on-site to assist with the logistics for both small and large-scale events.
We invite you to learn about The Residences at Solaz, a Luxury Collection Resort scheduled to debut Fall 2018.